Your home is as unique as your personality, as distinctive as your style and completely and utterly yours to do with as you please.
Many modern home designs opt for open plan living, to let light, ambience and energy flow through from kitchen, to dining, to living areas. If you have a separate dining room however, you may be wondering how to jazz it up to enhance its style and add luxury. You may not know where to start.
If you have a separate dining room however, you may be wondering how to jazz it up to enhance its style and add luxury. You may not know where to start. 
There are luxury colour schemes that add value and luxury to dining rooms. 
Interested to discover them for yourself? 
Read more from the luxury furniture Perth specialists at Ultimo Interiors. 
Keep it bright and light with white
Did you know that the colour white is often a secret weapon for many interior designers? 
This shade certainly carries a lot of impact in any room of the house. 
How so? 
White is simple and clean,

 

It's a low-risk colour, and

 

It definitely adds brightness and the illusion of added space.

 
If you really adore white and really want it as the feature background to your luxury dining room, consider pairing with an Epic DT White Table made in Italy from travertine stone.  
Alternatively, a Hanami Wood DT adds dynamic luxury with soft, light and flowing lines. 
These dining tables and other dining room accessories are featured lovingly at Ultimo Interiors, the luxury gem hidden among furniture stores in Osborne Park.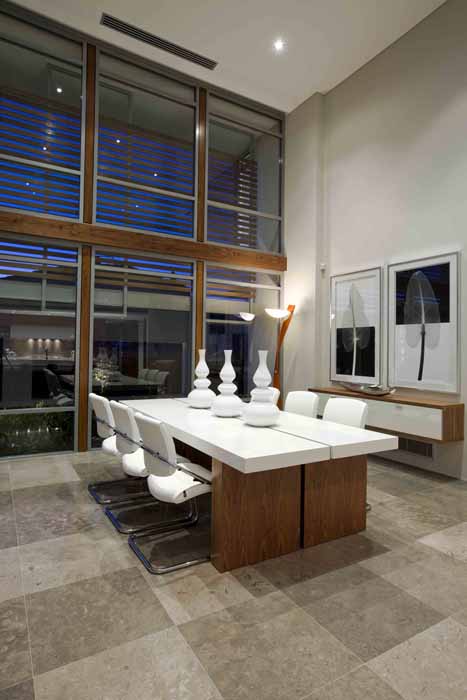 Utilise earthy tones
Earth tones are surprisingly in when it comes to luxury dining rooms. Which is fortunate for you, because all earthy tones actually complement each other. 
The tones that enhance luxury: 
Deep and rich brown shades

 

 Earthy dark greens, and

 

Pale, cloudy blue skies.

 
Earthy tones, in interior design, are considered to be ever so functional and appealing in their ability to create warmth, settling and reassurance. 
This is the atmosphere you want amongst your dinner guests. 
To achieve this look, consider a dark green feature wall, with a warm dining table and chairs.  
As the luxury furniture Perth specialists, may we suggest our Beetle Dining Chairs? With a range of insect-inspired colours and wood bases available in oak, black stained beech, smoked oak or American walnut – you'll achieve an earthy and elegant dining room easily.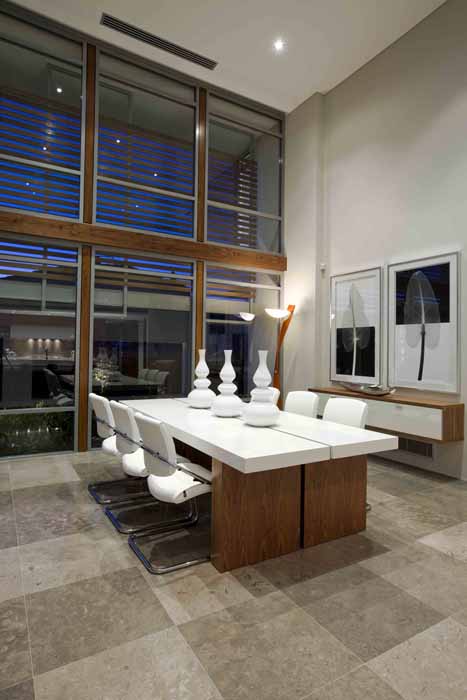 Black and gold for upped sophistication
The combination of black and gold together is the epitome of luxury. This colour scheme with a black back drop and gold accents will impress your guests and yourself time and time again. 
Pay homage to gold with adding feature lighting like a Rain WL light in Gold or the expertly handcrafted G.R.A Gold Pendant. 
Bring luxury back with black
Black never goes out of style due to its mysterious and masculine appeal. 
Fortunately, you can couple black with another feature colour to achieve luxury – mainly the gold and dark green spoken above. 
Be careful with a black dining room, however as obviously the room will look and feel dark, so add light (natural and/or artificial). 
Ultimo Interiors: The Luxury Furniture Specialists
Visit our showroom amongst the other furniture stores in Osborne Park to gain inspiration for your luxury dining room. 
Need help making your home more luxurious?  
Contact Ultimo Interiors today for the luxury furniture Perth products your heart and home desires.