Your living room is where you go to relax, perhaps watching a movie or sitting down, having a catch-up with friends.
A sofa, couch, lounge or whatever you may call it, is

 

often

 

the centrepiece of the living room, an essential element to the style and functionality

. 
But how do you choose the perfect living room sofa for you? 
Read more from the Perth luxury furniture specialists at Ultimo Interiors to find out. 
Choosing the right sofa size
Before you go out and buy any sofa for your living room – know how big it can and should be with reference to your living room space. 
Here's how to narrow it down: 
Room size

 
It's never a good idea to pick an excessively large sofa for such a small living room space. 
Take the room layout, dimensions, space already taken up (or planned to be taken up) by other furnishings, and movement around the room into consideration. 
Intended use

 
To relax and recharge and/or entertain guests – a living room sofa serves many purposes. 
Identify what intended use best serves you. An entertaining extraordinaire? A bigger sofa will ensure everyone is comfortable, or perhaps even a sofa set? An intimate introvert? A smaller sofa would be perfect for you to curl up with a good book or to watch a movie. 
Remember, practicality and harmonious interior design go hand in hand. 
Explore the designer showroom at Ultimo Interiors, nestled amongst the other furniture stores in Osborne Park, for a taste of impeccable design and functionality in our living room sofas.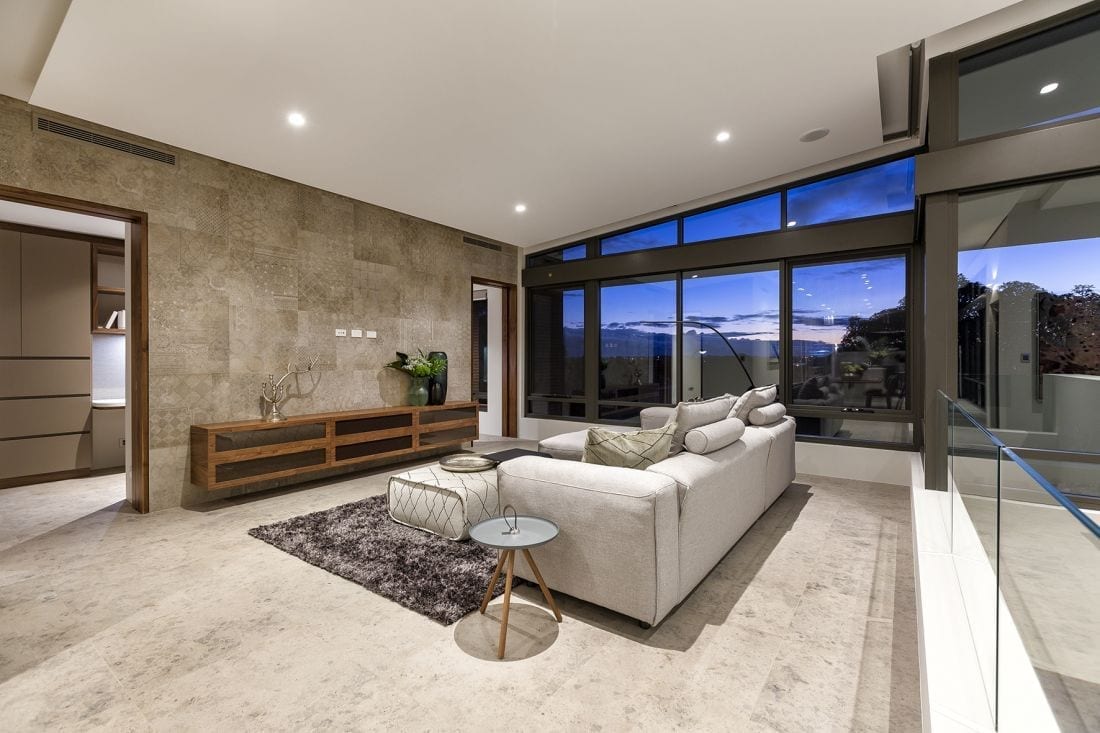 Choosing the model and materials
Know your intended use and have an idea of the sofa style you would like? It's time to go back to the room layout to pick the perfect model of sofa for you. 
Here are some points to consider: 
An L shaped sofa or a living room sofa with a chaise lounge may be calling your name, yet it might be 'too much' based upon your layout. Then again, it may be perfect!

 

Strongly unbalanced proportions in a living room may repel harmony, relaxation and a general avoidance of the room.

 
Choose its position well, as a sofa is often the centre point of a living room.

 
Now, on to your intended fabrics and materials. Leather or fabric? Wood or metal bases? This all goes down to intended use and your overall style theme in the living room and throughout your home. 
Did you know you can combine classic with functionality? Contemporary design with luxury appeal? 
Come visit our luxury furniture Perth showroom in Osborne Park and find the living room sofa you've been waiting for. 
Ultimo Interiors: Perth's luxury Italian furniture specialists
At Ultimo Interiors, we have the Italian furniture that will suit your interior design and sofa needs. 
Need room for everyone? Our Nash sofa is light, dynamic and boasts a funky appeal.  
Need a quiet spot to sink into and watch a movie? Our ALAIN sofa is the epitome of contemporary Italian luxury furniture. The cushions even have memory foam for your added comfort. 
Need luxury furniture in Perth?  
Contact Ultimo Interiors today to find the best living room sofa and so much more to suit your style.